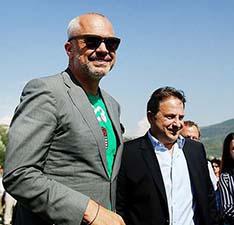 INTRAKAT – opening ceremony for the construction of the EU FUNDED VLORA Waterfront, budgeted at 8.2 ml euro
Press Release
INTRAKAT – opening ceremony for the construction of the EU FUNDED vlora waterfront, budgeted at 8.2 ml euro
Paiania, Tuesday, June 16th, 2015 – Works for the EU funded project "Works for the construction of Vlora Waterfront project – Phase 1" begun following an opening ceremony attended by Albanian Prime Minister Edi Rama on Friday, June 12th in Vlora Albania. INTRAKAT recently undertook the project by signing the relevant contract budgeted at 8.2 ml euro plus VAT with the Delegation of the European Union in Albania, after an international tender.
The contract includes the construction of a road section of about 4,5 km and its adjacent promenade along the coast line from Skele until Road Tunnel in Vlora. The works also include the construction of public squares, parking areas, parks, concrete structures for supporting and protection of the road and promenade, drainage and irrigation networks, as well as electromechanical installations.
The project is expected to be concluded within 14 months from the signature of the contract.
Mr Petros Souretis, Vice Chairman & CEO of the INTRAKAT Group on the occasion of the signing of the contract stated: "This is our first major infrastructure project in Albania, which upon its completion will contribute significantly to the touristic development of Vlora and in turn boost the local economy".