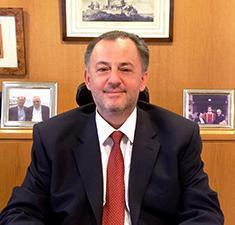 Dimitris Ch. Klonis
Non-Executive Member
A recipient of educational awards and scholarships from the Greek State, the Bank of Greece and the Alexander S. Onassis Foundation, he has served as Senior Economist in the Research Department of the Bank of Greece, a Professor at Deree College and a Member of the Council of Economic Advisors to the Mayor of Athens.
He joined Intracom in 1994, has served as Intracom Group CFO and has been a member of the Board of Directors since 1995. He served as Group General Manager, Finance & Administration Manager (1995-2004), Executive General Manager of the Corporate Center (2005-2006), Executive Director Group Financial Management (2006-2011), Vice-Chairman and Deputy CEO (2011-2013). In 2014 he was appointed Chairman of the BoD of Intracom Holdings and of most subsidiary boards as well. From July 2016 to December 2018, he was Intracom Holdings Chairman and CEO. Since December 2018, he is Vice Chairman and CEO.
He holds a Ph.D. in Economics from the University of London.